Spring Thaw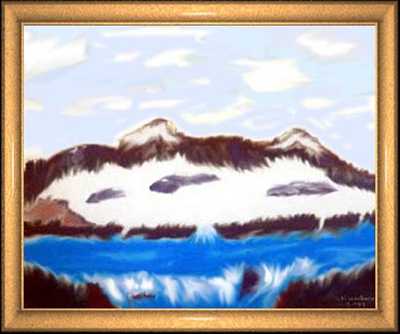 He sat there in the cabin
eating the last bowl of beans.
He slowly looked around the room, taking stock.
The wood was down to a few meager sticks of kindling
and a couple of sticks of wood.
The larder was empty save for stale flour and salt.
His wife and children were huddled in the bed for warmth
after filling their empty stomachs.
He once again looked out the window and said,
"Thank you Lord for Spring.
You've watched over us these past long winter days
and I knew you would take care of us until the time came.
I'm taking my wife and children down to the valley
this morning and they will never suffer another winter
closed up in this tiny one room shack."
He sat there and thought for a minute
thinking of how she had stood by him.
When he came home from the war he needed time.
Time to heal, to be able to blend back into his old life.
Time to let some of the memories fade, but never BE forgotten.
Time to mourn his fellow men he had seen die in such a brutal way.
"Lord, with a gentle hand and loving heart
she has led me through the dark hours
and always reminded me that you were there for me.
She has brought the sunshine back into my cold and aching heart.
Thank you Lord for my wife, my life."
by Sharon Wallace ©
Digital Art

Copyright by Sharon Wallace 1998-2000

My Tennessee Nancy Spirit Moon
Evening Tide Lost Hope Spring Thaw
The Ole Swimmin' Hole The Country Church Solitude
The Overlook The River Cabin Storm Brewing
Alone The Back Forty Smoky Mountains
Woman

Navigational Dropdown Menu